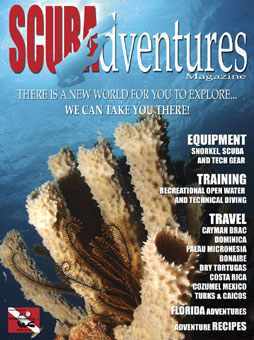 SCUBAdventures
Magazine

You can reach them easily and inexpensively through the pages of SCUBAdventures Magazine and on the web. SCUBAdventures is filled with several advertising sections specifically for Excursion Services, Health & Fitness, Marine Services, Real Estate and Restaurants. SCUBAventures is a comprehensive keepsake/reference guide to diving in the area and beyond. It is filled with valuable information that every diver, photographer and adventure traveler will use again and again. Its incredible photography and adventure dive travel information, along with the latest equipment and certifications available make it a true keepsake as well as a handy reference guide. This makes SCUBAdventures a valuable marketing tool for any advertiser.
Kevin Sweeney is the owner and founder of SCUBAdventures. Certified as a diving instructor in 1972, he began working at various Naples dive stores since 1974, then opened SCUBAdventures in the fall of 1993. Kevin is a Master Instructor and has taught 1000's to dive in all levels. He specializes in digital underwater photography and creating exciting dive trips.
971 Creech Rd, Naples, Florida, 34103
(239) 434-7477
DIVE THE FLORIDA KEYS AND BEYOND!
Cayman Brac, Dominica, Palau Micronesia, Bonaire, Dry Tortugas, Costa Rica, Cozumel Mexico, Turks & Caicos and more...